Helping You Move Longer & Move Stronger
Get Help And Relief From Your Pain Now
Schedule A Visit To Find Out How We Can Help You
North Burnaby Physiotherapy @ Cedar
Your physiotherapists at Cedar Chiropractic & Physiotherapy are dedicated professionals focused on keeping you Moving Longer and Moving Stronger. They form part of your clinic team of caring healthcare professionals. Find out how we can help you take control of your health through knowledge and control of your own body. See why we are one of the leading Burnaby Heights physio clinics.
The focus of physiotherapy is to help improve your health. By doing so, we can help find ways for you to get back to living your life. As a result, you can learn to live free from pain and how to prevent injuries.
Why Choose Us As Your North Burnaby Physiotherapists
Team
Your physiotherapists work as part of a team of skilled health professionals. A multi-disciplinary approach to rehabilitation is sometimes the best and fastest way of getting you back to feeling normal and healthy again.
Your chiropractor in North Burnaby can help ensure your body is ready to perform exercise rehab.
Your team will help you reach your goal as quickly as you can.
Advanced Training
Your team of physiotherapists have advanced training in manual therapy. In addition, your physiotherapists are certified in a number of physiotherapy techniques and treatment approaches. These include:

manual therapy
acupuncture
athletic taping
sports medicine
active rehabilitation
craniosacral therapy
exercise therapy
sports rehab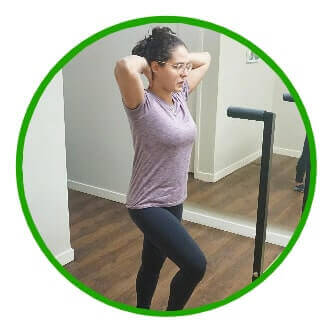 Trust
Your physio team has formed strong relations with medical doctors, health clinics, sports physicians, as well as dance schools, by closely working with each.
Also, all of the practitioners at your North Burnaby physio clinic are licensed members of the College of Physiotherapists of BC. You will see why we provide some of the leading physiotherapies in Burnaby, BC
YOUR PHYSIOS ARE HERE TO HELP
Your dedicated team is here to help you find relief and get you on your way to moving, feeling and living better
Patient Reviews

… great experience all around! …
They were able to accommodate me the same day I called in for an appointment. Their staff are friendly and professional and it was a great experience all around! thank you!
– Cristalle L, Google Review
… so grateful to have come here …
…I also saw Damien Dubouchet, who is just as wonderful and is now my regular physiotherapist whenever I get a rare flareup or have other issues. I don't live close to this clinic, but it's worth the travel. Everyone at the clinic is extremely professional and helpful and I'm so grateful to have come here.
– Jessica C, Google Review

Q: How much does physiotherapy cost?
A: The standard rate for a 30-minute session is 85

Q: What machines are used in physiotherapy?
A: Some of the machines used during your physiotherapy session can include:
Ultrasound
Laser
TENS
IFC
Ankle sprains
Autism Spectrum Disorder
Back pain
Breathing difficulties
Cardiac rehab
Chronic fatigue
Concussion
Dancers, figure skaters and gymasts' injuries
Dizziness
Emotional issues relating to physical symptoms
Headaches and migraines
Infant and pediatric issues (eg. colic, acid reflux, plagiocephaly, birth trauma, ADHD, torticollis)
Knee sprain
Men's health issues
Motor vehicle accident injuries (ICBC)
Neck pain
Pelvic pain and dysfunction
Post cancer treatment complication
Post traumatic stress disorder
Pre and post natal issues
Sciatica
Shoulder or rotator cuff
Spinal dysfunction
Sports injury, return to play
TMJ / TMD
Urinary urgency, incontinence
Stroke: retrain gait and hand function
Vertigo
Women's health issues
Workplace injuries (WSBC)
Private, work (WorkSafeBC), ICBC claims welcome
Many other health programs available
Service in English, French, Cantonese or Mandarin
Private room
Dedicated 1:1 sessions with your physiotherapist for 30, 45 or 60min
Recover in the hands of well-experienced professionals
Ample nearby parking
Easy access by public transit
Variety of nearby amenities (eg. Starbucks, Subway, RCMP etc.)
Schedule an appointment online
YOUR PHYSIOS ARE HERE TO HELP
Your dedicated team is here to help you find relief and get you on your way to moving, feeling and living better