Recover From Whiplash With Physiotherapy And Chiropractic
How To Know If Your Whiplash Is Serious
Whiplash Injury
Is whiplash dangerous?
What is whiplash?
You are driving to get groceries. Suddenly, you feel an immense thud from behind as you are hit by another car. You have now been in a
motor vehicle accident
.
When it happens, the shock takes awhile to sink in. About half of the people involved in a car accident will be injured. You may notice symptoms right away or it may take a week or so for all your whiplash injury symptoms to appear.
What Is Whiplash – Defining Whiplash
Patients often wonder, "
what does whiplash mean?
". The meaning of whiplash is a general term referring to injuries you may have from being in a motor vehicle accident. What causes whiplash is the unexpected and sudden acceleration and deceleration that happens during your accident.
When you are first hit, your body and especially your head and neck are suddenly whipped around. Immediately after, your body comes to an abrupt stop because of your seatbelt, headrest, airbag or some other structure in your car, or simply because your head and neck can not stretch any further.
Whiplash means the sudden whipping and stopping of your body structures that leads to tears and injuries to your muscles and joints. You may also hit your head causing mild to severe brain injuries, such as a concussion. Bump and bruises are included.
Is whiplash dangerous? Is whiplash serious?
If you wonder if whiplash is dangerous, it really depends on a number of different factors. These can include:
How serious the motor vehicle accident was
Your physical health around the time of the car accident
What you were doing at the time of impact (were you looking to the side or straight ahead)
Your past history of injuries
Your age and gender
The safety features in your car (eg. seatbelt, airbags)
Your proper use of those features (eg. headrest height, shoulder and lap harness)
Whether you realized you were going to be hit or not
Start Your Recovery From Whiplash
Sometimes, recovering from car accident injuries can be a challenge. We can answer your questions and help you get started.
Contact us to schedule an appointment with any of your North Burnaby chiropractors or physiotherapists who can help you figure out a plan to get your life back on track.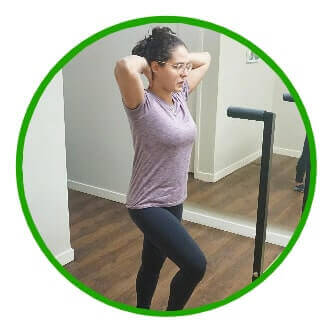 How To Diagnose The Severity Of Your Whiplash
Injuries suffered in whiplash are generally divided into 4 categories depending on the severity and extent of your injuries. Under the Whiplash Associated Disorder or WAD classification used in defining what is whiplash injury, diagnosing the 4 grades of whiplash can be broken down into:
Grade 1: You have neck pain, stiffness and tenderness but no findings or signs on your physical exam
Grade 2: You have neck discomfort as well as physical exam findings such as tenderness or reduced range of motion
Grade 3: You have neck discomfort as well as neurological signs such as muscle weakness, changes in your reflex testing and loss in sensation
Grade 4: You have neck discomfort and either a bone fracture or joint dislocation
In addition, there is also a Grade 0 which means having no symptoms or signs. Most of the diagnosis of your whiplash grade or severity can be done through your physical exam with your physiotherapist or chiropractor.
What does whiplash look like on an MRI?
Sometimes after your whiplash injury, you may have other imaging studies such as an xray or MRI done. Though not routinely done after a car accident, with an MRI, you would be able to see if there are any soft tissue injuries including damage to your ligaments, discs, spinal cord or organs.
What muscles are affected by whiplash?
When there is injury to your neck and other areas of your body from whiplash, this can involve your muscles, ligaments, tendons, joints or discs. These can include the soft tissue in your neck, upper back, shoulders, mid back, lower back, jaw, chest and arms

What Are The Signs And Symptoms Of Whiplash
Once you have been injured, there are many different possible whiplash symptoms you may notice. What does whiplash feel like will also be different for each patient. The list of symptoms of WAD can include:
Whiplash neck pain or stiffness
Lower back pain
Headache
Anxiety
Difficulty sleeping
Dizziness, nausea
Fatigue, lack of energy
Having a hard time focusing
Jaw pain
Loss of appetite
Other body aches, pains
Trouble with memory
Your whiplash symptoms may be delayed depending on the type and severity of your injuries. For some patients, all of their whiplash symptoms may not show up until a week or so after your accident
How Long Does It Take To Recover From Whiplash
Most patients with whiplash injury are able to fully recover within 3 months. For others, it may take several months to sometimes years to regain a similar level of comfort and function to what you enjoyed before your whiplash injury.
Fortunately, with treatment, there are many ways to help you feel better and recover from your car accident injuries. For injuries that do not include bone fracture or brain injury, rest and ice can be helpful in reducing swelling and inflammation in your damaged muscles and joints.
How to help whiplash
Some of the treatments to help you recover with physiotherapy and chiropractic care include:
Joint adjustments or manual therapy from your North Burnaby Heights physiotherapists and car accident chiropractors at Cedar to your spine or joints to help restore normal movement
Whiplash physiotherapy exercises help stretch tight areas and strengthen weakened muscles
Getting enough rest when needed
Taping or bracing can be used to support injured areas
Be sure to follow up regularly with your medical doctor during your recovery
Results will of course vary from person to person
Your therapist will review the whiplash physiotherapy treatment guidelines with you and discuss the ideal approach on how to help you recover. As you improve, the exercise part of your care may be expanded. This can include things such as:
Clinical pilates
Exercises on an exercise ball
Rebuilding your core strength
Resistance bands
Small hand weights
Other rehab exercises
Your exercise rehab program will continue your improvements by strengthening and stabilizing your injured areas. With the proper guidance, you will be able to safely return to doing the things you enjoyed doing before your car accident.
Check out this simple movement to improve back mobility.

Whiplash By The Numbers
About 50% of people will have no injuries after an auto collision
Of the other 50% who do get injured, about half of those will recover fairly quickly
The remaining 25% will experience chronic symptoms or those lasting more than 3 months
Most whiplash injuries happen to people in relatively slow moving collisions, eg 10-20km/h
Visible damage to your vehicle usually starts in car accidents of 13km/h or faster
Most people are able to fully recover from their injuries after their auto accident. To help speed up your progress, make sure you get enough rest in the early stages.
Afterwards, the sooner you are able to safely return to your regular activities and with proper treatment, the faster you will be able to get back to feeling as good as you did before your accident.
Patient Review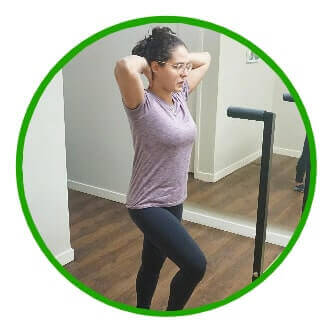 Jocelyn
The clinic was amazing and provided continuous support and care after my car accident. They were amazing in helping me get better. The other staff and receptionist Jenny are very friendly and will make sure you get the care you need!
Posted on Google
Frequently Asked Questions
How do you know if you have whiplash? If you have been in an accident and are now noticing symptoms such as soreness, stiffness or pain in your neck, shoulder or back you most likely have whiplash. Other symptoms of whiplash can include whiplash headache, dizziness, fatigue, loss of appetite, trouble sleeping and anxiety

How long does whiplash take to heal? If you have whiplash, many patients are able to recover and be back to how you were feeling before your accident within a few days to a few weeks. About 25% of patients will have chronic symptoms as a result of their accident, meaning lasting more than a few months.
Other factors which can affect how quickly you recover include if you have a past history of repeated injuries or accidents, your physical and mental health condition at the time of the accident and how serious the impact was

How is whiplash treated? The first week after your accident it is best to rest and take it easy. Next, some things you can do include using ice / heat, gentle stretches, doing light activities, seeing your family doctor and getting treated by your auto accident chiropractor and physiotherapist

Start Your Recovery From Whiplash
Sometimes, recovering from motor vehicle injuries can be a challenge. We can answer your questions and help you get started.
Contact us to schedule an appointment with any of your North Burnaby chiropractors or physiotherapists who can help you figure out a plan to get your life back on track.