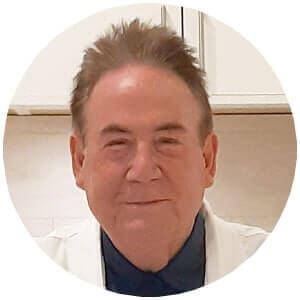 Dr William Shannon DC
Chiropractor

Background
Dr William Shannon graduated from high school in 1971 after completing courses in all sciences and mathematics. He was the recipient of numerous scholarships and awards. He then attended Selkirk College in Castlegar (1972) and majored in chemistry, biology and calculus. From college he transferred to university in France, Switzerland and the United States, where he received extensive training in theoretical physics and psychology (1973-1978). Among his professors were several world-renowned researchers such as Dr Brian Josephson, winner of the Nobel Prize for the discovery of quantum mechanical tunneling, and Dr. Stephen Hawking, who is an authority on time, space and black holes, with major contributions to the fields of cosmology and quantum gravity.
After returning to Canada, Dr Shannon resumed his training in chemistry and calculus (1979). From college, he transferred to UBC (1980) where he took further training in genetics, microbiology, biostatistics, calculus and medical terminology. While at UBC, he received a scholarship in genetics and was recognized with a UBC Alumni Award. From UBC, he transferred to CMCC in Toronto to take his formal training (1981-1985).
Training included anatomy, pathology, histology, microbiology, community health, female care, pediatrics, geriatrics, abnormal psychology, emergency care, physiology, radiology (technical and diagnostic), clinical diagnosis, laboratory diagnosis, neurology, biomechanics, infectious diseases, orthopaedics, electrotherapy, embryology, biochemistry, nutrition and jurisprudence. Most professors were PhDs and MDs from U of T and DCs with specialties in radiology, clinical diagnosis and orthopaedics. Orthopaedics was taught mainly by residents who had trained under Dr WH Kirkaldy-Willis and Dr David Cassidy.
Dr Shannon studied anatomy under John WA Duckworth, MD, who taught medical school at U of T for 35 years. Dr Duckworth is renowned for his contributions to U of T's anatomical museum and Moore's Anatomy. Dr Shannon studied radiology under Dr Terry Yochum and Dr Lindsay Rowe, who are the authors of Essentials of Skeletal Radiology, which is now standard text in hundreds of medical schools.
Dr Shannon has been in private practice for 25 years and is certified to practice in Canada and the United States
Services
Active Release Techniques (ART) for muscular issues
Diversified therapy
extremity adjusting: hands, feet, jaw
full spine adjustments
knee joint dysfunction
migraine headaches
nutrition: vitamins, minerals, probiotics
rotator cuff syndromes
shoulder dysfunctions
sports injuries and training
trigger point therapy, muscle knots
Behind The Degree
Nickname: Doctor of the Rock
Favourite book: National Geographic
Favourite food: Butter chicken or rice and vegetables
Favourite leisure activities / hobbies: Photography, hiking
Favourite movie: Top Gun
Favourite place: Switzerland
Favourite sport: Weightlifting
Weakness: Fruit flavoured yogurt
Most embarrassing moment: Backing SUV into a pillar
Most known for: Working
Most thankful for: Family
Something you may not know about him: Knows how to cook
Superhuman talent: Knowing what my wife is thinking
Useless talent: Rock collecting