Neck Relief Tips
If you spend time working at a desk or on your phone, you will likely have had some neck and shoulder pain before. Long hours working without breaks. Incorrect posture. Improper setup of your workspace. These can all lead to neck pain.
About 10% of us will have neck pain on any given day. Sometimes it is chronic. Other time you wake up and moving your neck is painful. You may also have headaches or pain into your shoulders and upper back.
Schedule an obligation free complimentary neck pain consultation with your physiotherapist or chiropractor. They can help you find the right tools to bring relief.
Other strategies to help you get rid of your neck pain include:
Find out how to prevent your neck and shoulder pain from building
Learn a 6 point checklist on properly setting up your desk to cause the least amount of neck tension
Try 8 simple stretches done in the comfort of your own home as soon as you start having neck and shoulder pain
Download Your Neck Stretches
Do You Have Neck And Shoulder Pain When You..
Cook a meal
Play video games
Read a book
Use your cellular phone
Wash dishes
Work on your laptop or computer
Patient Reviews
Bernie
After a few weeks i noticed a significant improvement and a few weeks later my tennis elbow and my neck stiffness were all gone.
Posted on Google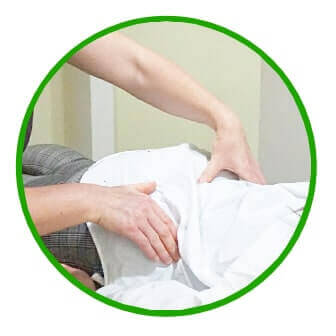 Mary
My neck feels great! In addition to some top notch manual therapy and release
Posted on Google
Download Your Neck Relief Stretches Now