Neck And Back Pain Prevention
When you sit to work or study for a long time, different parts of your body will begin shortening, tightening and stiffening up. These include muscles in your neck, shoulders, upper back, chest, lower back, hips and legs.
After awhile, this may result in neck, shoulder and back pain. You may get headaches, have trouble concentrating and get tired more easily.
Find out how you can get relief and avoid these pains by scheduling your obligation free complimentary neck and back pain consultation with your physiotherapist or chiropractor. They can help you get relief and comfort.
To help ease your neck and back pain, you can:
Arrange your workspace properly to reduce the build up of tension in your neck, shoulders and back
Take more frequent breaks when studying and working
Try these 10 easy stretches you can do at home to keep pain and stiffness away
Download Your Stretches
Are You Getting Pain In Your Neck, Back Or Shoulders As You…
Do your homework
Play games on your computer
Prepare a meal
Talk on your cell phone
Work at your office
Meet Your Pain Relief Healthcare Professionals
See your physiotherapist or chiropractor to find relief of your neck, back and shoulder pain
Patient Reviews
Cecilia
I struggled with back and shoulder pain for most of my life. I never got it thoroughly checked out and thought it was natural to be experiencing that sort of discomfort because of my work and age. … after my 5th visit, my back and shoulder pain disappeared.
Posted on Google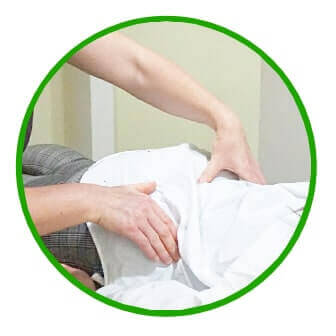 Nathan
I needed help with my recent neck pain (e.g. cervical compression & nerve pinches) that developed alongside persistent shoulder tension & back issues that I've had for years… Thanks to my past several sessions with Josh, I've experienced a clear reduction in pain & increased mobility.
Posted on Google
Download Your Neck And Back Stretches Now